Here you will find legal jobs primarily based in India. We update this list daily. To see legal jobs that we posted yesterday and before, click here and scroll. If you are a recruiter, click here to send us your job vacancy.
Note for job seekers: Here is a list of what we do not do:
We do not manage applications for these legal jobs.
We do not monitor deadlines, which means that vacancies posted a few days ago might have been closed.
Legal Jobs – April 05 2022
Associate, S Kasliwals & Associates,Jaipur (PQE 2 to 5 Years)
Looking for Advocates having work experience of 2 to 5 years in Litigation for High Court or commercial court with good drafting and research skills. Applicant should be well conversant in English.
Also looking for Associates having experience in drafting of deeds and documents, conducting due diligence exercises etc.,
Interested applicants may send their CV to [email protected]
Associate/ Senior Associate,Sujata Chaudhri IP Attorneys,Noida (PQE  2-4 Years)
Sujata Chaudhri IP Attorneys, an IP boutique firm located in Noida, is looking for an Associate/ a Senior Associate with 2-4 years PQE. The ideal candidate should be an avid learner with good drafting skills and an ability to work and prosper in a fast-paced work environment. The candidate must also have a good attitude towards work and be able to juggle multiple matters in a day. Experience in trademark prosecution and opposition is a must and understanding of trademark enforcement would be a plus. We offer a competitive salary, great benefits and an excellent working environment comprising of a young and dynamic team. Please apply through the firm's website at https://sc-ip.in/careers/.
 Associates, LexLis Law Offices, Delhi(PQE 3-5 Years)
LexLis Law Offices is looking to hire an Associates with 3-5 years of experience in Delhi.
Open Positions: One
PQE: 3-5 Years
Location: Delhi NCR
Qualification: LL.B. (H)
Specific Requirements
The applicant should have knowledge of the day-to-day working of the Delhi High Court, NCLT and NCLAT.
The applicant is expected to have knowledge of insolvency matters, white collar crimes, recovery matters and arbitration. The applicant should be able to carry out research and drafting work on a daily basis independently.
The applicant must have successfully cleared the All India Bar Exam.
Strong written and spoken communication skills in English.
The candidate should have sound legal drafting capabilities.
Application Process. 
The application must include the following:
– Tell us about yourself.
– Why litigation?
– A short one on the Insolvency Law in India.
Send applications to: [email protected]
Remuneration: As per market standards.
2 Legal Counsel positions,large telecom company,Gurgaon (PQE 4-10 Years)
We are currently hiring for 2 Legal Counsel positions specialised in Global contracts with a large telecom company in Gurgaon!
A Lawyer, with at least 4-10 years of work experience in law firm or as in-house counsel dealing, amongst other, negotiation and finalization of contracts, including JV contracts and disputes resolution. Exposure to Telecom or IT industry is desirable.
Key Deliverables,
Documentation related to transactions in respect of Global Business & Procurement vertical, including MSAs, Equipment Supply contracts, RFPs, IRUs, Bandwidth and capacity sale contracts, etc.
Managing all high value transactions and disputes arising thereunder for domestic and international. ? Negotiation of Contracts and evaluation of new business.
Please reach out to [email protected] for a confidential discussion.
Principal Associate,Areness, New Delhi (PQE 7 Years)
Areness is looking for a Managing Associate (Dispute Resolution) with atleast 7 years Post Qualification Experience in Dispute Resolution for its Delhi/NCR offices.
Candidate should have good managerial/ team leadership skills beyond experience and knowledge in Commercial and Civil Laws.
Associate,Sondhi & Partners , Delhi (PQE 1-2 Years)
Sondhi & Partners is a full service providing law firm in India practising in the areas of Corporate, Litigation and Intellectual Property Rights. Head office is situated in Delhi. For more details you can visit at www.sondhipartners.com
Location – Netaji Subash place, Pitampura Delhi-110034.
About the job – Sondhi & Partners is looking for 2 associates for their litigation team in Delhi and Chandigarh who can litigate in various courts and tribunals including DRT and NCLT.
Work Description – The candidate applying should have experience in drafting and appearing before various courts and tribunals including High Courts.
The candidate should also have good research skills and should have good command over english.
The candidate should be comfortable to travel if required.
Experience – Candidates with 1-2 years of experience will be preferred. Freshers can also apply. Enrollment with the Bar Council is a must.
Remuneration- Salary will be in accordance to the experience of the candidate and according to the industry standards.
How to Apply- Interested candidates can send their resume with a cover letter to [email protected] with a subject line "Application for the post of an Associate"
In-house role, Ecom Express Limited, Gurugram (PQE 3 Years)
Looking for a candidate having 3 years work experience for an In-house role at Ecom Express Limited (Gurugram):
The job will require:

• Drafting, reviewing, and negotiating various commercial contracts, confidentiality agreements, lease agreement, LOIs, build-to-lease agreements, etc.
• Working understanding of real-estate laws, related compliances, due-diligence and other related processes.
• Working understanding of litigation process (both civil and criminal) including drafting and vetting of suits, replies, rejoinders, legal notices, maintaining litigation trackers.
• Communicating with and managing any third-party bodies such as external counsel or auditors.

CVs can be sent to [email protected]
NOTE: Subject of the email has to be in the following format:
Job application | (Full Name) | (work Ex in years) | Legal Vacancy Group.
Associate,Ethos Legal Alliance, Mumbai (PQE 2-3 Years)
Job Opening With Ethos Legal Alliance
JD : DRT, DRAT, SARFEASI, CMM assignments, Civil Suits
PQE : 2-3 years in above assignments
Location : Fort, Mumbai
Joining : Max May 2022 01st Week
Kindly note that for this opening, we have a general budgetary allocation of Rs.2,40,000/- PA, which further will depend on the merits of each Application.
Mail CV on [email protected] with the subject line "Associate – DRT" by 10th April 2022 with a brief write – up about past work experience in such assignments.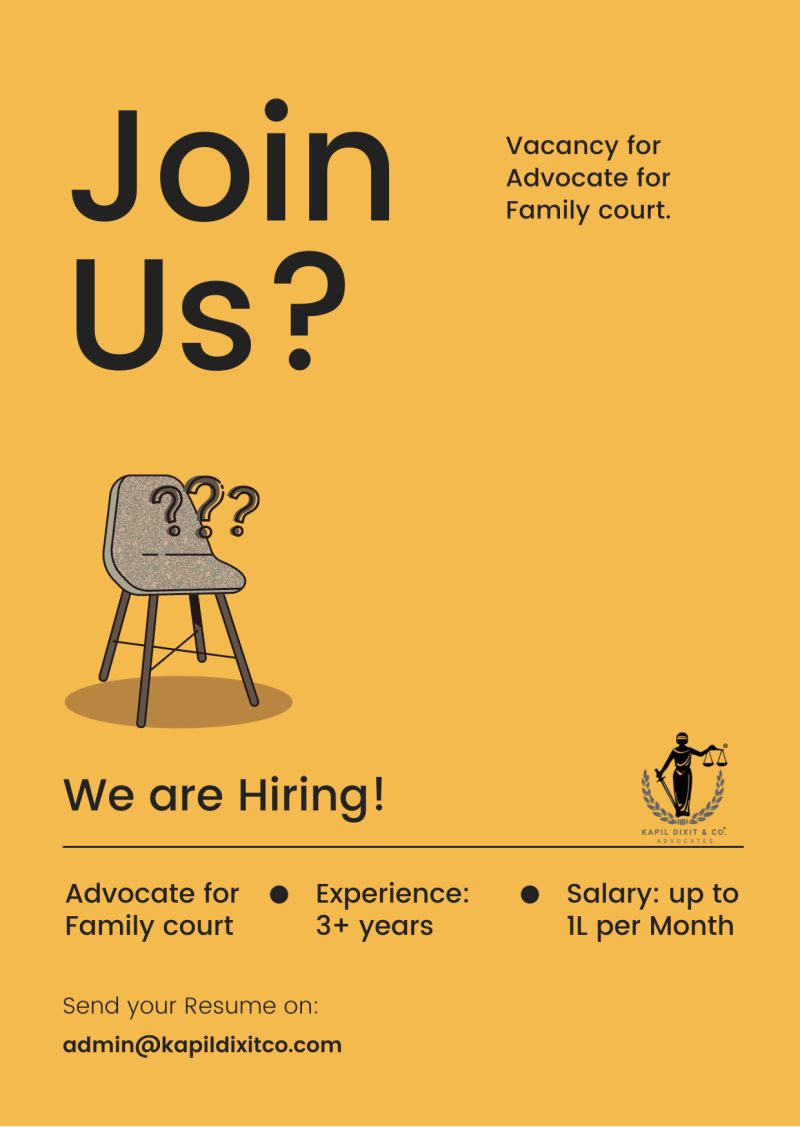 Lawyer,Chamber of Advocate Shrin Khajuria, New Delhi (PQE 2-5 Years)
Chamber of Shirin Khajuria is looking for a junior having a PQE of 2-3 years.
There is a vacancy at Chamber of Advocate Shrin Khajuria. The requirement if for a person with 2-3 years of experience. The work is mostly for Supreme Court and TDSAT.
Pay-according to the industry standards.
Location: New Delhi
Keystone Partners (Mumbai) is calling for applications for (i) associates with 0 to 1 year PQE and (ii) associates with minimum 2 years PQE.
Interested applicants can write in to [email protected] with the subject 'Job Application (2022)'.
Requirements

LLB Degree
Develop a complete understanding and proficiency of our contract management tool and work on the application built by Exigent to manage legal and financial information of our clients
Validate information in accordance with quality standards
Work in Project Teams, handle client communications and team communications, conduct and attend training sessions and quality check, as and when required
Excellent written and verbal communication skills to understand detailed contracts of clients across all region
Ability to analyze detailed contracts
Must have a background in Litigation
Great attention to detail with a commitment to high quality deliverables
Good understanding of legal contracts and documents such as Sale of Service Agreements, Partnership Agreements, Lease and License Agreements, Employment Contracts, Due Diligence and Non-Disclosure Agreements
The ideal candidate must have work experience in areas such as Real estate, commercial leasing, supply chain management, financial services, commercial lending, corporate securities, mergers & acquisitions, merchandising, contract administration, contract drafting and due diligence
Click here for more info and to apply
Associate, Query Legal, New Delhi (PQE NA Years)
Query Legal – Advocates and Consultants, a Law Firm in Safdarjung Enclave, is hiring for the post of Associate.
Interested candidates can apply via email to be sent to [email protected] along with your CV and Cover Letter.
You can also contact them at +91-9999641617 (Adv. Karan Nagpal).
For the LinkedIn Id of the job poster, click here
To view jobs posted on previous days, click here
Advertisements
Join our WhatsApp group to get notified of these jobs immediately.